Well, at least you shouldn't try to mark pant leg hems by yourself. I know a few people who've tried and the results were less than satisfactory.
The reason is simple enough. When your body moves, so do your clothes. If you're sitting down while reading this, you can get an exaggerated example of this. Look down at your pant hems and note where they lay. Now, stand up and look again.
The difference is pretty noticeable, isn't it? If you bent over slightly to look, here's the next thing you should do. If you have a full-length mirror, look at your pants again. Bend slightly and then straighten up.
You'll notice a difference again, but not quite as pronounced.
As you can see, bending down to mark your hem will create a difference when you stand upright again. Even twisting to check your progress will make a difference.
You could keep re-marking the hemline, but that's very time-consuming.
You Could Make a Standard Hemline
If you just want a standard seam, you could measure your inseam and mark the same length on each leg. To get this measurement, you may need to use a rigid ruler. Getting an exact measurement with a flexible measuring tape by yourself is possible, but difficult.
You would then mark each pant leg with a straight line, using a ruler and marking chalk. Even so, the result will be a rather generic cut, similar to the fit that you would get off the rack.
But there is a way to get the custom fit you're looking for in your hems.
It Takes Two to Tango . . . and Mark Hems!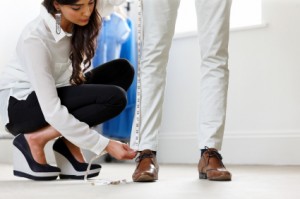 To get that custom hem, it takes two people: the one wearing the pants and the other doing the marking for the hem.
When my clients bring pants to hem, most of them want a custom fit. It takes a little more time, but the results are worth it!
If they bring several pairs, we fit each one individually. We don't just measure one pair and apply the same cut to the others. Each pair of pants will fit a little differently. The type of fabric and the cut or shape of the pants makes each one unique, just like you!
It's really the best way to get satisfactory results.
Don't Forget Your Shoes!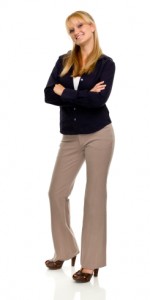 The final step in getting a truly fabulous fit is wearing the shoes you intend to wear with the pants. The style and shape of the shoe can make a big difference in how the hem is marked.
Formal dress shoes, particularly those with high heels, will need different hemlines than sneakers or boots.
I've had clients come to a fitting with three, and even four, pairs of shoes. Each shoe style was matched to the pants they were going to wear with them.
And as I mentioned in a previous post, unless the pants are dry-clean only, wash them before getting them fitted to minimize shrinking.
Have a "Sew Great" day,
Mary Maurer