Clothes are frustrating at times. Garments are supposed to be functional. They also show our personality. And nice clothes just make us feel good about ourselves.
But, clothes don't always cooperate, do they?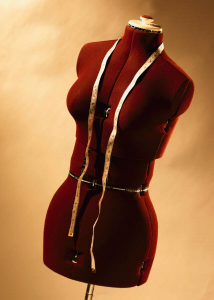 Maybe you've worked hard to get in shape and look your best. Now you've slimmed down, but your favorite dress doesn't fit anymore. It used to flatter your figure, but now it just hangs there.
And while the compliments such as – "Oh, you must have lost weight, your clothes don't fit anymore." –  are kind of nice, you'd much rather hear, "Gosh, you look great! That dress looks fabulous on you!" That would be much better, wouldn't it?
You just need a seamstress.
Or perhaps that favorite, comfortable shirt – my husband calls it his "comfy shirt" – is starting to come apart at the seams. You hate to throw it out, but feel like you have no choice.
Well, now you do have a choice.
Perhaps you went shopping and found that one, absolutely perfect outfit . . . and it was on sale! When you tried it on, it fit great. But it looked like it was made for someone four inches taller. The pants covered your feet or the skirt length was not right for you. Your heart broke as you sadly placed it back on the rack.
Maybe you ordered a garment on the Internet because you got a really good deal. But…when the package arrived and you tried the clothes on, the fit wasn't what you expected. So you either tried to send it back or maybe you just gave it to a friend or family member.
You know, you really didn't have to… you just need a seamstress.
---
Your Personal, Professional Seamstress
My name is Mary Maurer, a professional seamstress in Fayetteville, Arkansas, and I've been helping people solve their clothing problems in Northwest Arkansas for many years. I'm a seamstress and have the experience, knowledge and equipment to help you fix your "wardrobe malfunctions" affordably. You want your clothes to cooperate again.
It's important to you and so it's important to me.
I can also help you with new clothing and other fabric what-nots. For a better idea of how I can assist you, look at the "Sew What?" page.
For samples of my work, check out the photos on the "Sewed These" pages. Need some reassurance that I know what I'm doing? Check here – Sewed 4 Them.
---
If you want to ask me about a specific issue you're experiencing, call me at (479)304-0455 or use my contact form to send me an email right now. (Don't worry, it's "sew" easy to fill out and your information won't be shared with anyone else.)
Let's keep you looking great in your favorite clothes!
Mary Maurer – Seamstress
Fayetteville, Arkansas